Most Recent Books
The Happy Professor: How to Teach Undergraduates and Feel Good About It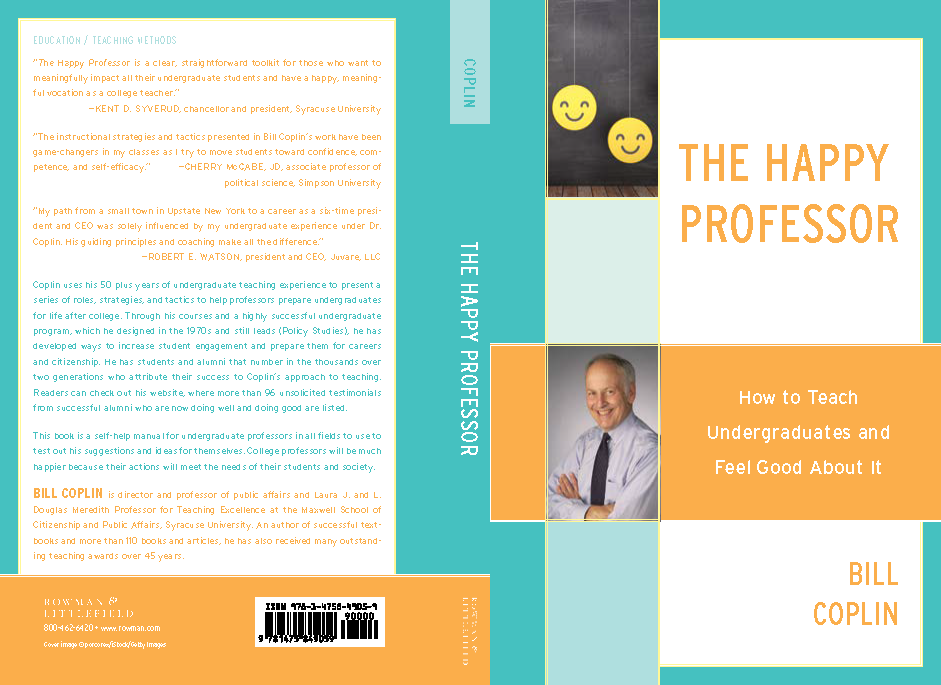 This book will be published by Rowman & Littlefield in July of 2019. It is written for those professors who embrace the idea that the primary purpose of an undergraduate education is to prepare students for careers and citizenship.  For those professors who see their primary education goal as making scholars out of their students and those who think of the trinity of lectures, reading and tests are the way to teach, the book seeks to persuade through example and how to have much more fun than they now have in doing what they are supposed to be doing.
The book uses Coplin's 50+ years of undergraduate teaching experience to present a series of roles, strategies and tactics to help professors prepare undergraduates for life after college. Through his courses and a highly successful undergraduate program, which he designed in the 1970s and still leads, Policy Studies, he has developed ways to increase student engagement and prepare them for careers and citizenship.  He has students and alumni that number in the thousands over two generations who attribute their success to Coplin's approach to teaching. You can check out his website to see more than 96 unsolicited testimonials from successful alumni who are now doing well and doing good are listed.
This book is a self-help manual so that undergraduate professors in all fields can test out his practices for themselves.  College professors will be much happier because their actions will meet the needs of their students and society.
Public Policy: Skills in Action: A Pragmatic Approach
Published in 2017 by Rowman & Littlefield, the book is used at Syracuse University, several colleges at the graduate and undergraduate levels, and over 50 high schools to introduce students to the skills necessary for effective citizenship. Based on an earlier version first published in 1978 with colleague Michael K. O'Leary, the book is published by Rowman & Littlefield. The book presents a small number of key concepts in a problem-solving framework so students can choose a policy area of interest to them and explore public policy alternatives.  It provides a pragmatic framework designed to appeal all students, no matter what their interests and their ideological positions.
Ten Things Employers Want You to Learn in College
First published by Ten Speed Press in 2003, a revised version was published in 2012.
The book informs undergraduates on how they can use their college academic and non-academic experiences to prepare for rewarding careers. A fortune five hundred company purchased and distributed copies to the Center for Career Services at Syracuse University, while several other universities have purchased the book for their entire freshman class. The book has been published in several foreign languages.
Building on the positive reactions of readers and audiences to Bill Coplin's book 10 Things Employers Want you to Learn in College, Coplin released a revised edition that adds new material to help college students find a solid career path once they graduate college. His emphasis on skills and career exploration, both inside and outside the classroom, is even more crucial than when he first wrote this widely used book in 2003. The new edition recognizes changes in technology and the job market over the past ten years that will help college graduates launch themselves into successful careers.
Other Major Books
Books for the General Public
25 Ways to Make College Pay Off: Advice for Anxious Parents from a Professor Who's Seen It All (AMACON, 2007)
How You Can Help: An Easy Guide to Doing Good Deeds in Your Everyday Life, (Routledge, 2000)
Co-authored with Michael K. O'Leary and Carol Gould, Power Persuasion: A Sure‑Fire System for Getting Ahead in Business. (Reading, Massachusetts:  Addison‑Wesley 1985). Translated into Danish, German, Japanese, and Spanish.
Books for Students  
A Guide to Teach Youth What Employers Want Them to Know.  Published by the Office of Workforce Development of the New York State Office of Child and Family Services, 2005
Introduction to International Politics Three editions published by Markham Publishers (1969, Rand McNally (1969) and Prentice Hall (1980).
Co-Authored with Charles W. Kegley, Jr., A Multi-Method Introduction to International Politics: Readings in Observation, Explanation, and Prescription. (Chicago: Markham Publishing Company, 1971). Second Edition under a different title published by Praeger, 1976.
Co-Authored with Michael K. O'Leary, Everyman's Prince: A Guide to Understanding Your Political Problems, published by Duxbury Press. 1st edition in 1972, 2nd edition in 1976
The Functions of International Law: An Introduction to the Role of International Law in the Contemporary World (Chicago: Random House, 1966).
Co-Authored with Leonard Stitelman, five simulation exercises in the American Government Simulation Series published by Science Research Associates, 1969. The Series consists of a Participant's Manual for each of the five titles. Principal designer in the first three listed; and Professor Stitelman was the principal designer in the last two listed:
The American Constitutional Convention: A Simulation Exercise
Presidential Election Campaigning: A Simulation Exercise
Budgetary Politics Presidential Decision-Making: A Simulation Exercise
The Congressman at Work: A Simulation Exercise
Decision-Making by Congressional Committees: A Simulation Exercise
Books for Academic and Policy Professionals  
Co-authored with Carol Dwyer, Does Your Government Measure Up: Basic Tools for Local Officials and Citizens, (Syracuse, N.Y.: Benchmark Program of the Maxwell School, Syracuse University, 2000)
Co-authored with Michael K. O'Leary, The Handbook of Country and Political Risk Analysis. Holliston, Mass.: Political Risk Services, a division of IBC (USA) Publications Inc., 1994.
Co-Authored with Michael K. O'Leary, Towards Improvement of Foreign Service Reporting, (Washington, D.C.: United States Government Printing Office 1975). Based on a Report to the Murphy Commission to Study the Organizations of the Government to Conduct Foreign Policy.
Co-Authored with Michael K. O'Leary, Quantitative Techniques in Foreign Policy Forecasting and Analysis, (New York: Praeger 1975).
Articles by Bill Coplin
Grade inflation works for today's students
What Has Happened to Our Citizens-In-Training?
Education reform should keep the workplace in mind