Everyday Skills for Career and Citizenship
The 38 skills, organized into 10 sets, appear in the flyer below. Make Benjamin Franklin happy. Download the Skills Win! Poster (DOWNLOAD) appearing below.  You can print as many copies of the poster as you want at no charge.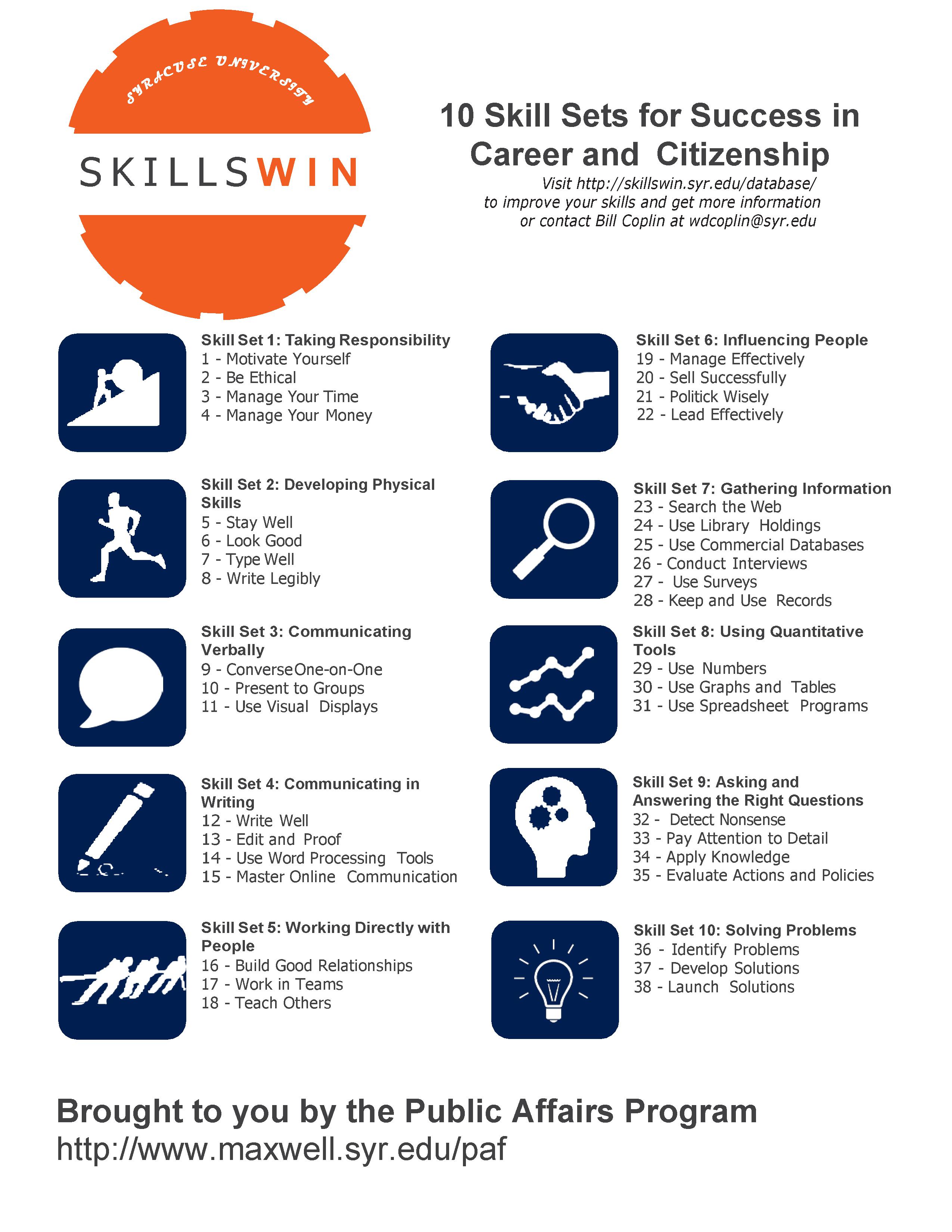 Coplin created the Skills Win website in 2014, which provides online materials from various existing websites for each of the 38 skills in the 10 skill sets. Students can get started on practicing these skills by using the resources on the website. The website provides direct links to each of the skill sets:
This Database provides you with the opportunity to develop the skills employers want. Decide what skill(s) you want to improve from the list below.
Skill Set 1: Taking Responsibility
1 – Motivate Yourself
2 – Be Ethical
3 – Manage Your Time
4 – Manage Your Money
Skill Set 2: Developing Physical Skills
5 – Stay Well
6 – Look Good
7 – Type Well
8 – Write Legibly
Skill Set 3 – Communicating Verbally
9 – Converse One-on-One
10 – Present to Groups
11 – Use Visual Displays
Skill Set 4 – Communicating in Writing
12 – Write Well
13 – Edit and Proof
14 – Use Word Processing Tools
15 – Master On-Line Communication
Skill Set 5: Working Directly with People
16 – Build Good Relationships
17 – Work in Teams
18 – Teach Others
Skill Set 6: Influencing People
19 – Manage Effectively
20 – Sell Successfully
21 – Politick Wisely
22 – Lead Effectively
Skill Set 7: Gathering Information
23 – Search the Web
24 – Use Library Holdings
25 – Use Commercial Databases
26 – Conduct Interviews
27 – Use Surveys
28 – Keep and Use Records
Skill Set 8: Using Quantitative Tools
29 – Use Numbers
30 – Use Graphs and Tables
31 – Use Spreadsheet Programs
Skill Set 9: Asking and Answering the Right Questions
32 – Detect Nonsense
33 – Pay Attention to Detail
34 – Apply Knowledge
35 – Evaluate Actions and Policies
Skill Set 10: Solving Problems
36 – Identify Problems
37 – Develop Solutions
38 – Launch Solutions